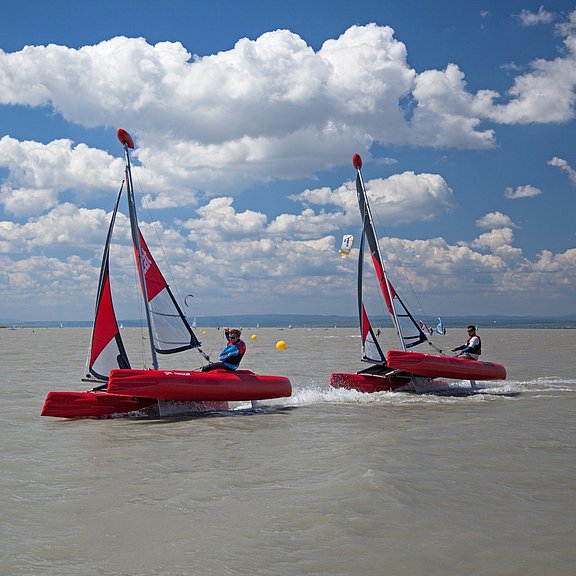 Unique
Grabner Sailing Academy
Welcome to the Grabner Sailing Academy!

In these videos you will learn the most important basics of sailing. If you've always wanted to learn how to sail, these films are just right for you. The chapters are structured similarly to a basic sailing licence in a sailing school. Everything is explained as simply as possible so that you can concentrate on the essentials.

The Grabner Sailing Academy team wishes you good luck and lots of fun sailing!
The sailing catamaran
In this first video you will learn about the most important parts of the sailboat. As you can see, this is a catamaran – that is, a boat with 2 hulls.
Catamarans feature excellent sailing characteristics. The Happy Cat can reach speeds of over 16 knots.
Set the sails, cast off, moor
In this video we show you the first important steps on your sailboat – in this particular case, on the inflatable Happy Cat. In just a few minutes, you'll learn how to set the sails, slip the boat – that is, push it into the water – and how to moor and cast off.
Steering courses, sail positions
In this video you will learn on which courses you can sail, how to steer correctly and how to adjust the sail position to the respective course!
When sailors speak of courses, they usually mean the direction of travel in relation to the wind direction.
Avoidance rules sailing simply explained
In this video we briefly explain the most important right-of-way rules for sailors. However, please always enquire about local peculiarities before sailing. This video does not provide legally binding, complete information on all regulations concerning sailing – only the most important basic rules are explained.
Sailing safety
Sailing is probably one of the most fascinating sports in which you interact with the forces of nature. This is exactly what can lead to unwanted situations from time to time – learn how to prepare for them in this video.
Raise the catamaran after capsizing
Man overboard maneuvers
In sport sailing, it can happen from time to time that a crew member goes overboard. In this video, we show you how to get him or her back on board.
It makes sense to practise the "man overboard manoeuvre" regularly. In an emergency, it helps if every move is right! Initially, it's best to practise with a buoy!
Sail trim: sail faster with the right trim
Roll-Booster sailing
For even more sailing fun in light winds, the Grabner company has developed the Roll-Booster.
This special headsail is very similar to the cut of a gennaker, but can additionally be sailed on 'downwind courses'. Thanks to the larger sail area, you are about 30 % faster than with the standard foresail.
Tips for sailing on a hull
| | |
| --- | --- |
| Abeam | Perpendicular to the direction of travel |
| Accidental gybe | Unintentional turning of the boom |
| Backboard | The left side in the direction of travel |
| Bear away | A change of course away from the wind |
| Belay | To fasten a line |
| Block | An enclosure with one or several pulleys over which lines run |
| Booster | A light large headsail for downwind, upwind and beam reach courses |
| Bow | The front end of a vessel |
| Bowman | The crew member at the foresheet |
| Capsize | To overturn |
| Catamaran | Double hulled boat |
| Centreboard | Vertical plate in the water, to minimise the drift |
| Clew | The rear corner of a sail |
| Coil up | To fold a line in regular loops |
| Crew | Boat manning |
| Curry clamp | Serrated spring clamp for fixing lines (sheets) |
| Easing | To yield the pull on a line in a controlled manner |
| Foresail | A small headsail |
| Forestay | Front mast mounting |
| Griping | The tendency of a sailboat to turn into the wind |
| Gybe (or jibe) | To turn into the wind with the stern |
| Halyard (or halliard) | Line for setting the sails |
| Harden in | To haul in the sail |
| Heave-to | Turn into the wind with the boat |
| Heeling | The leaning of a boat |
| Lee helm | The tendency of a sailboat to bear away from the wind while under sail |
| Lee side | The side away from the wind |
| Leech | The edge of a sail (luff, leech, foot) |
| Leeway | Lateral drifting due to the effects of wind or current |
| Luff up or head up | A change of course towards the wind |
| Manoeuvre | Activities that bring about a change in boat handling |
| Mast top | The top end of a mast |
| Portside | The left side in the direction of travel |
| Relative wind | A combination of actual wind and fair wind |
| Rig | Connection between hull and sail (mast, boom, shrouds and forestay) |
| Rig | To attach a sail to a boom, mast or stay |
| Running rigging | Collective term for sheets, halyards and downhauls |
| Sail head | The top corner of a sail |
| Sail tack | The front corner of a sail |
| Sheet | A line used to regulate the position of the sails |
| Shifting | The transfer of the mainsail from one side to the other |
| Shiver | Fluttering or flapping of the sails |
| Shroud | Standing rigging to hold the mast up from side to side |
| Shroud-mounted telltales | Show the wind direction |
| Standing rigging | Collective term for stays and shrouds |
| Starboard | The right side in the direction of travel |
| Stern | The rear end of a ship |
| Stern rope | Mooring line at the stern |
| Swing at anchor | Swaying of the boat in the wind or current in front of the anchor or buoy |
| Tack | To turn into the wind with the bow |
| Tarpaulin | Boat cover |
| Tiller | The "steering rod" of the rudder |
| To back wind | Holding a sail to windward |
| Trapeze | Hiking or sitting out setup on yawls and dinghies |
| Traveller | Device for adjusting the mainsheet tension direction |
| True wind | The wind that actually blows |
| Windward or weather side | The side facing the wind |