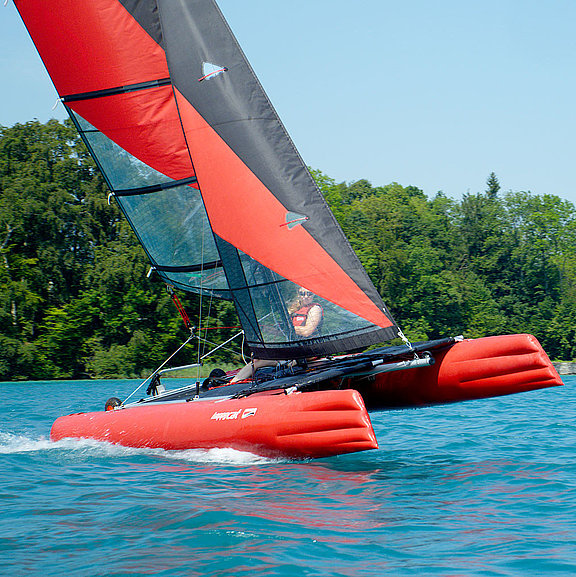 Products
Sailing catamarans
Basic knowledge HAPPY CAT sailing catamaran
What is an inflatable catamaran?
The HAPPY CAT is an inflatable catamaran that can be transported in just 3 bags. The 4-piece mast is plugged together and fit into the 185 cm long bag. The HAPPY CAT fits in almost any car, RV and can even be taken on the plane. With a little practice, the catamaran can be assembled by one person in around 30 minutes. The hulls are inflated with a hand pump or electric air pump in about 5 minutes.
The HAPPY CAT can be sailed by one person solo. When the wind is stronger it is recommended to sail in pairs. Up to 4 adults can fit on the large trampoline frame. The catamaran can be sailed up to 5 Beaufort, reaching speeds of over 16 knots.
Packed in 3 bags, max. 185 cm
Assembly time approx. 30 minutes
Up to 4 adults
Over 16 knots fast
Buying advice inflatable catamarans
The right HAPPY CAT for you
The construction of all HAPPY CAT models is basically identical. A stable bow foredeck can be mounted on all models for more usable space. Other accessories are slip wheels, masthead float, tarpaulin cover and much more. The different models have an ideal range of use:
The NEO is the smallest with 9 m² sail area. Ideal when low weight and smallest pack size are desired. The best performance unfolds when sailed alone or in pairs. In total up to 3 adults and 1 child fit on the catamaran. Fantastic sailing fun in up to 4 Beaufort. A 3 hp motor can be mounted optionally at the stern.
On the EVOLUTION everything is a bit bigger. Even if more people sail on the catamaran, the hulls dip less and the larger sail area of 11.5 m² provides even more propulsion. Up to 4 adults fit easily on the large trampoline frame. At 5 Beaufort the catamaran sails really fast. Optionally an up to 6 hp motor can be attached, which allows fast gliding rides.
With its even larger hulls, the HURRICANE offers more buoyancy and dips less into the water. Serial reinforcing bow braces increase hull stability in larger waves, for example at the sea. An optional reardeck can be attached to the stern for multi-day adventure trips. The rudder on the HURRICANE is not pulled up and down in the classic way with ropes, but is locked directly via the tiller in the up or down position.
The mast of the HURRICANE CARBON is 6 kg lighter. This allows even easier sailing on one hull due to a later tipping point. In the event of capsize, the carbon mast can be righted up again even more easily. An included padded bag protects the 4 mast parts during transport.
Unique
YOUR 10 HAPPY CAT ADVANTAGES
Everything you need to know about HAPPY CATs.
Key features why HAPPY CATs are the best dismountable sailboats!
10 ADVANTAGES HAPPY CAT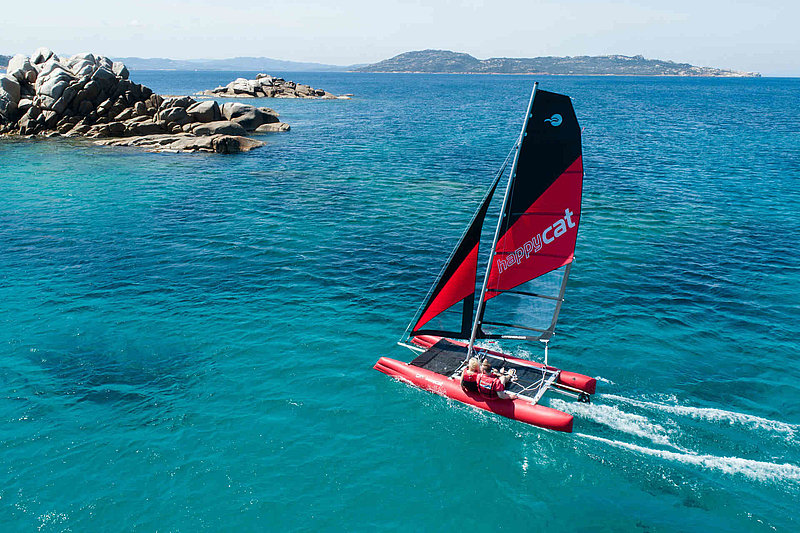 Sailing Academy
In these videos you will learn the most important basics of sailing. If you've always wanted to learn how to sail, these films are just right for you.
Academy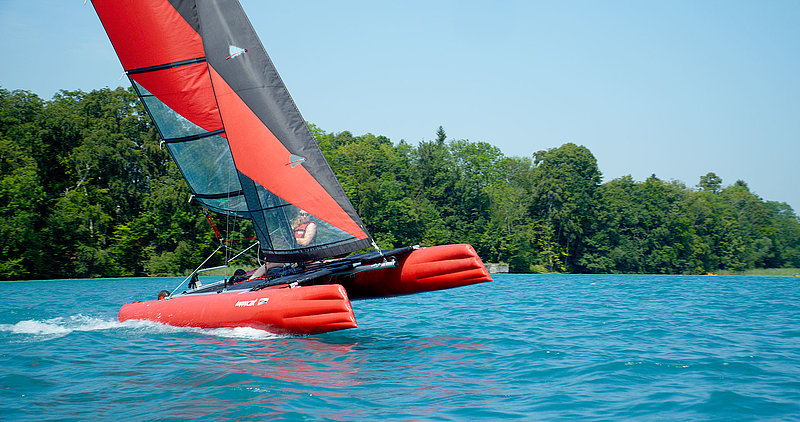 Grabner Support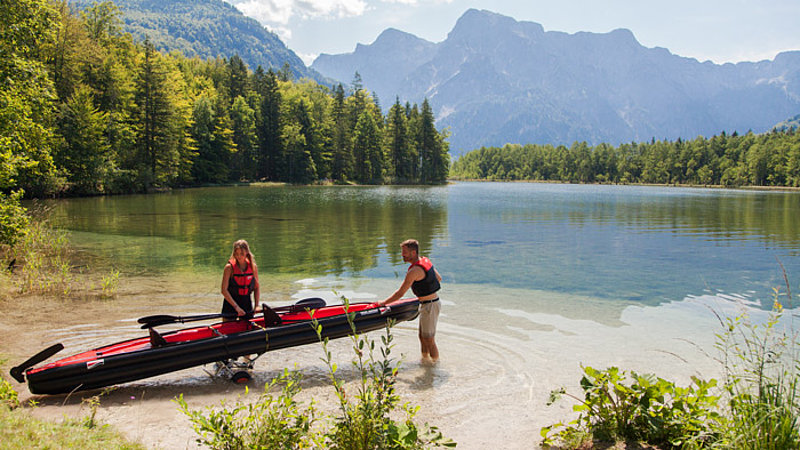 You have questions?
We are happy to help you!
Do you have questions about products, orders or other concerns? Please do not hesitate to contact us. Your Grabner team will be happy to help you!