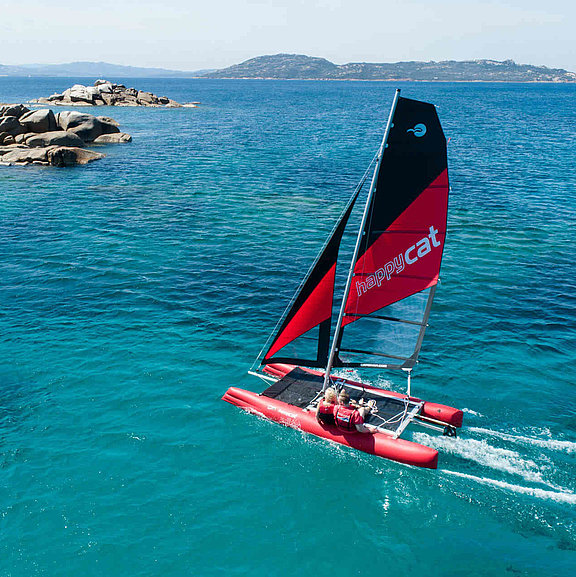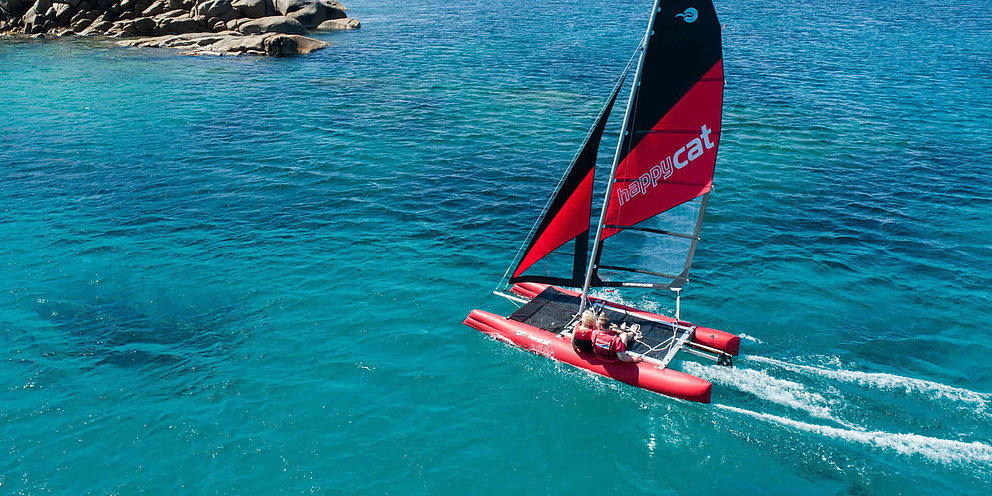 A sensational feeling
Happy Cat Evolution
ATHLETIC EVOLUTION
Action please!
Action please! The EVOLUTION flies at top speeds on just one hull over inland lakes or coastal waters and offers good positioning and stability even in stronger swells and at winds up to force 5 on the Beaufort scale. It is ideal for two sporty sailors but it also packs plenty of fun and space for families with children and luggage. This medium-sized member of the Grabner HAPPY CAT family combines excellent sailing characteristics with speed and fun. This inflatable cat can be stowed away in just 3 bags and is particularly popular with motorhome enthusiasts.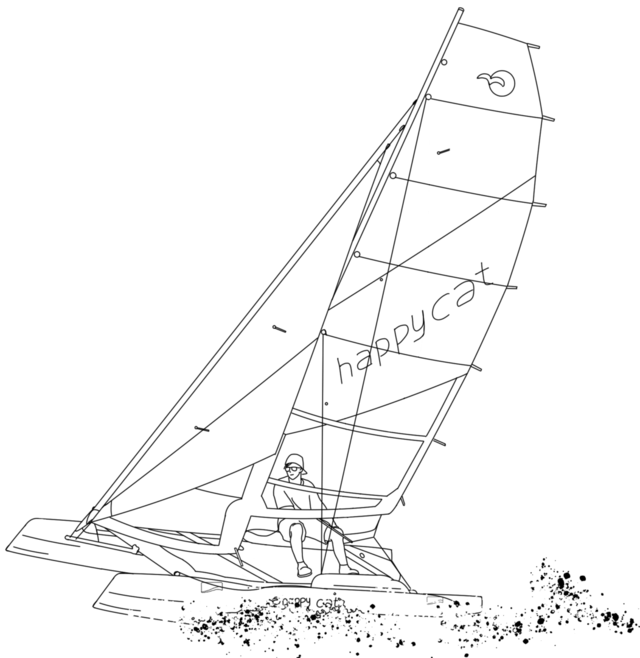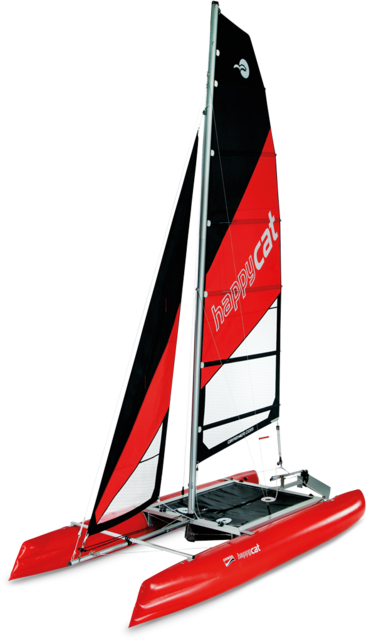 The boat
The entire catamaran can be packed in only 3 bags for transport and storage. Two long bags (185 x 30 x 30 cm) and a packing bag (80 x 45 x 28 cm). Suitable for many cars, roof boxes and mobile homes.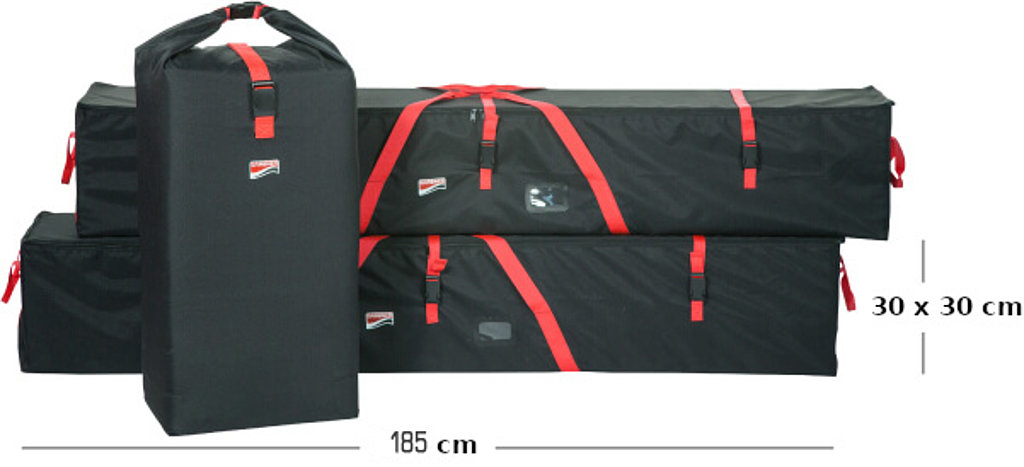 Convex wavepiercing hulls
The ideal hull shape enables you to sail at maximum speed and provides you more buoyancy for additional extra loads and safety. The modern Wavepiercer bow cuts elegantly through the waves and the convex hull bottom reduces water splashing as well as bow and stern resistance. It has been developed and optimised through tank testing and the boat-skin is hand made from tough Grabner car tyre rubber.

The hull and frame are firmly and stably connected by sleeve inserts, while the special square profile frame provides high torsional stability with no twisting. The trampoline mesh is integrated seamlessly and directly into the profile frame and offers plenty of space for comfortable sitting. A powerful 6 hp-engine can be mounted to the saltwater-resistant anodised aluminium frame to accelerate the inflatable catamaran to a breath taking speed of 25 km/h.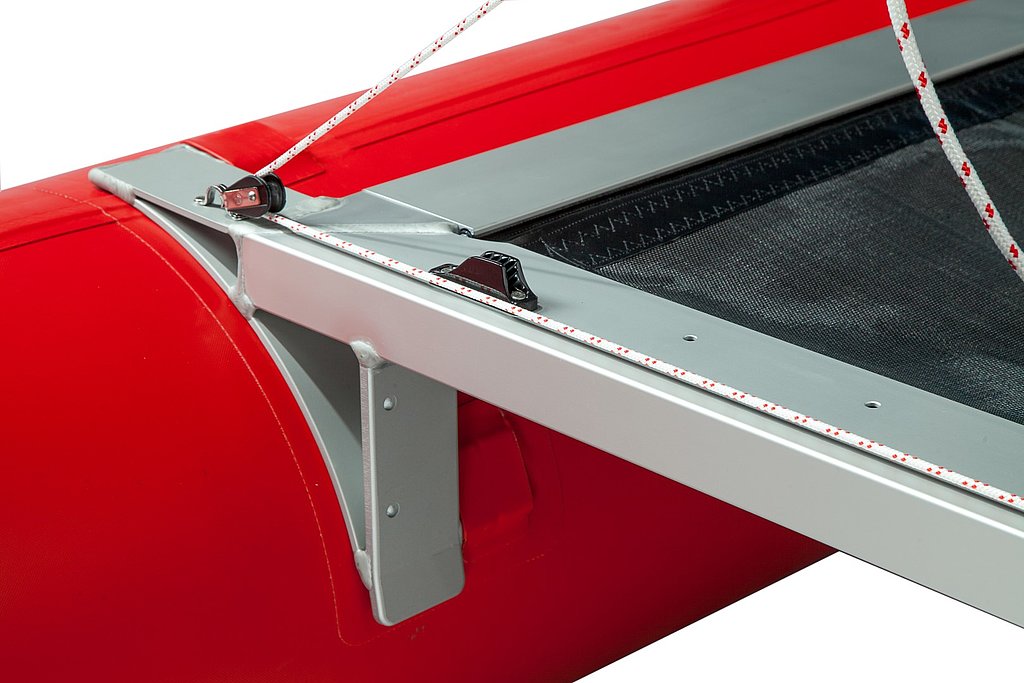 Foredeck for sitting, lying, sunbathing
The crossbar, which is included as standard, stabilises hulls in the bow area, while the optional foredeck expands the usable area and protects against water splashes when sailing at a high speed. The fixed crossbar allows you to add more luggage and sit, lie, sunbathe or even stand on it when getting into the boat.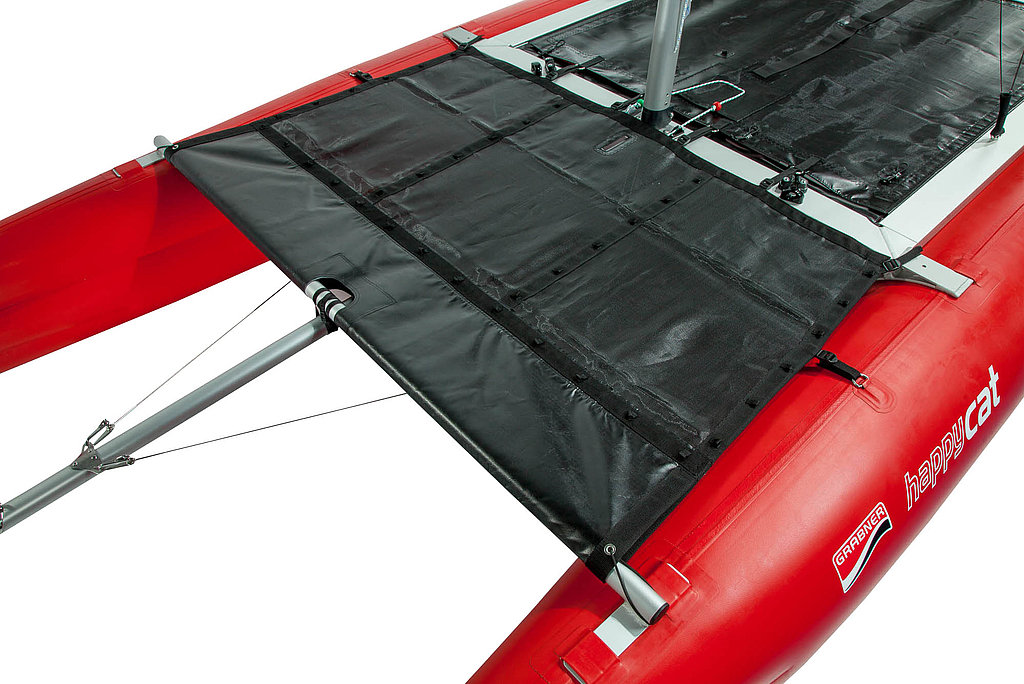 Optimum centre of pressure
The hydrodynamically optimised shape of the centreboard extends deep into the water to counteract lateral drift in the best possible way. The inclination is infinitely adjustable so that the centre of pressure by can be optimally trimmed on any course. The aluminium centreboard retracts automatically when it touches the ground and it can also be retracted completely during landing.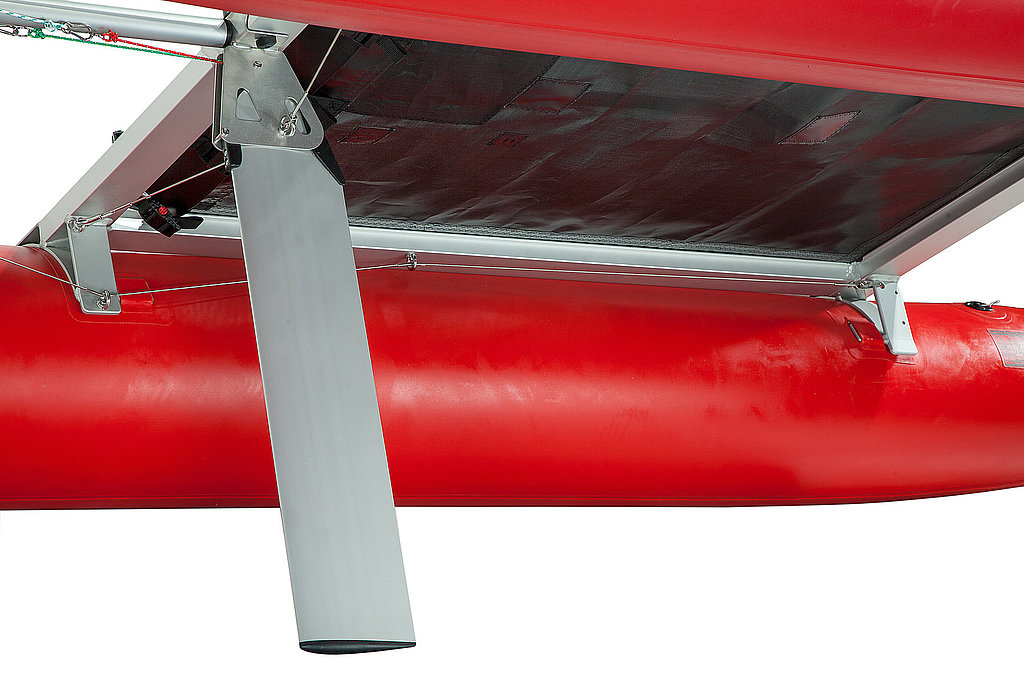 The high-speed rudder is positioned at the far end of the stern for smooth and stable steering. To ensure the best steering control, the sleek, hydrodynamically optimised blade extends deep into the water and triggers automatically when it touches the ground. For instance, when paddling in harbours, the tiller can be locked with the tiller lock, which is included as standard.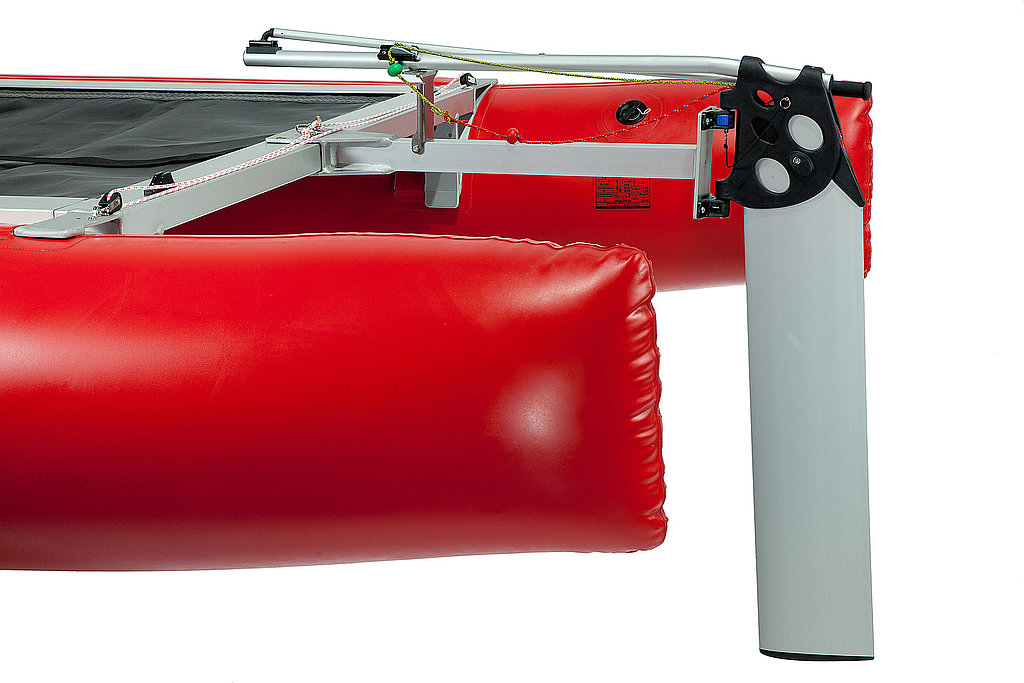 Practical mast foot joint
The practical mast foot joint makes it easy to right the mast, which can be righted and lowered by just one person.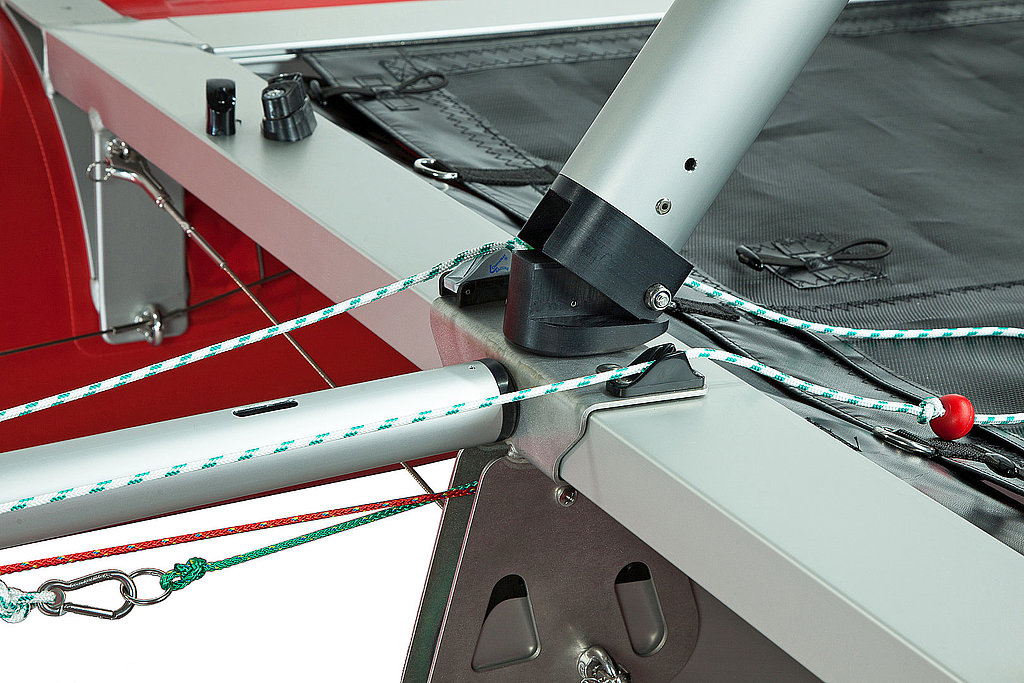 Professional rig
Stable and safe
For constantly stable sailing: The profile of the four-part mast is generously dimensioned and equipped with angular connectors to prevent the mast from bending and overstressing the sail. Mast and sail form one unit – the mast rotates with the sail, which is integrated seamlessly and directly into the mast profile to enhance the overall performance.
Double shrouds ensure that the mast bends in an optimal and controlled manner without compromising on safety; the additional forestay allows you to adjust the mast independently from the sails.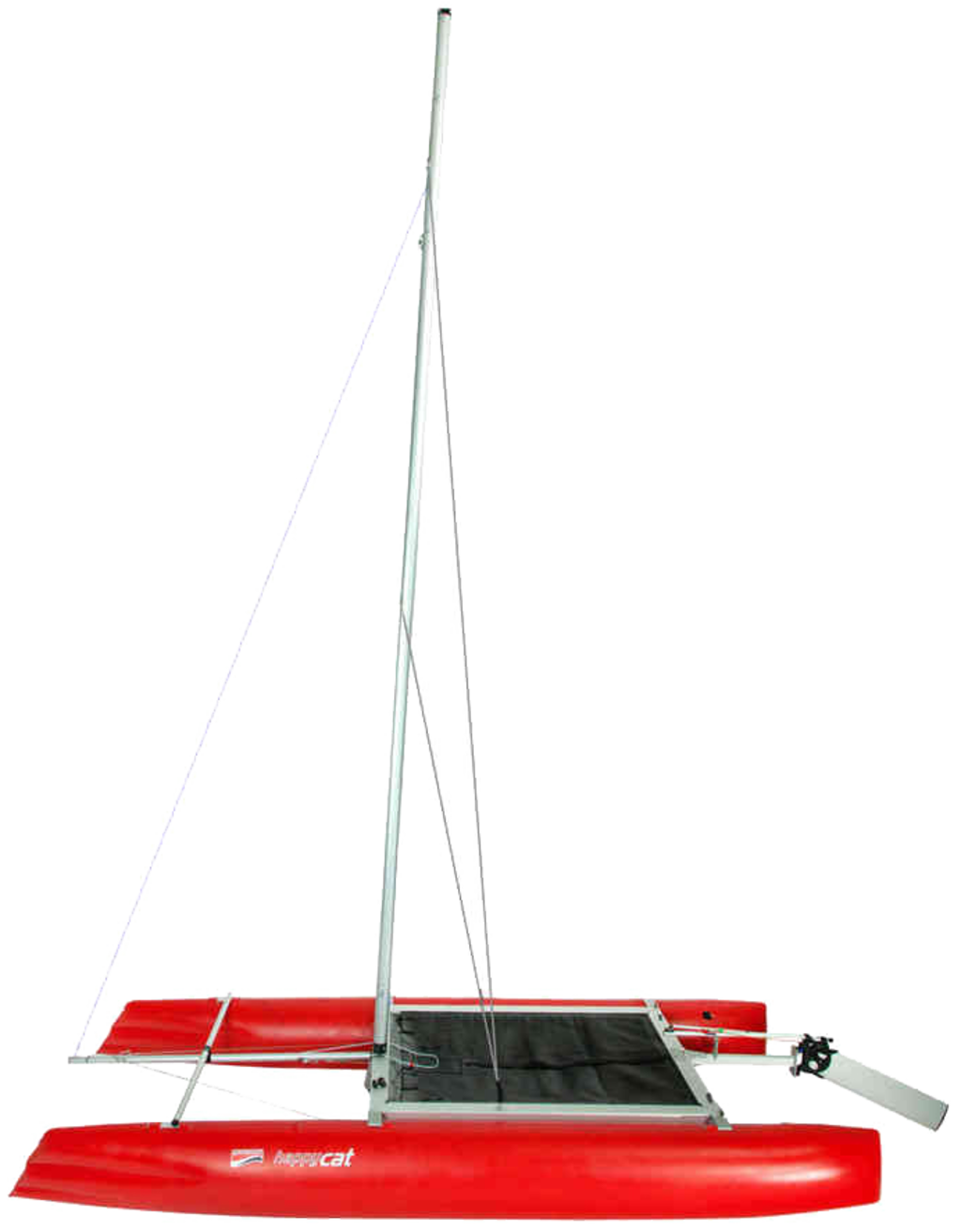 Optimum use of wind
Extra performance
Always the best profile:
The fully battened mainsail with a surface area of 8 m², provides the ideal profile for a wide range of wind conditions.
In light wind, the wide upper 'Square Head' sail section provides extra performance.
Never hit your head again:
The modern cut of the catamaran mainsail provides a larger sail surface and creates less turbulence – and since it has no boom, you will never hit your head again. Thick Dacron canvas and large reinforced windows give rigidity and good all-round visibility.
Tow points provide height:
The tow points of the 3.50 m² jib are fixed at an ideal position close to the mast in order to be able to sail with more height and to ensure a good foresail profile, even when sailing wind abeam.
The comfortable continuous jib furler makes it easy to furl the foresail.
Traveller and trim
The best trim for the fastest ride
Flat or bulging, luff or lee:
The traveller allows you to perfectly adjust the tow point of the mainsheet to the course, while the clew plate allows you to adapt the mainsail profile to the wind conditions.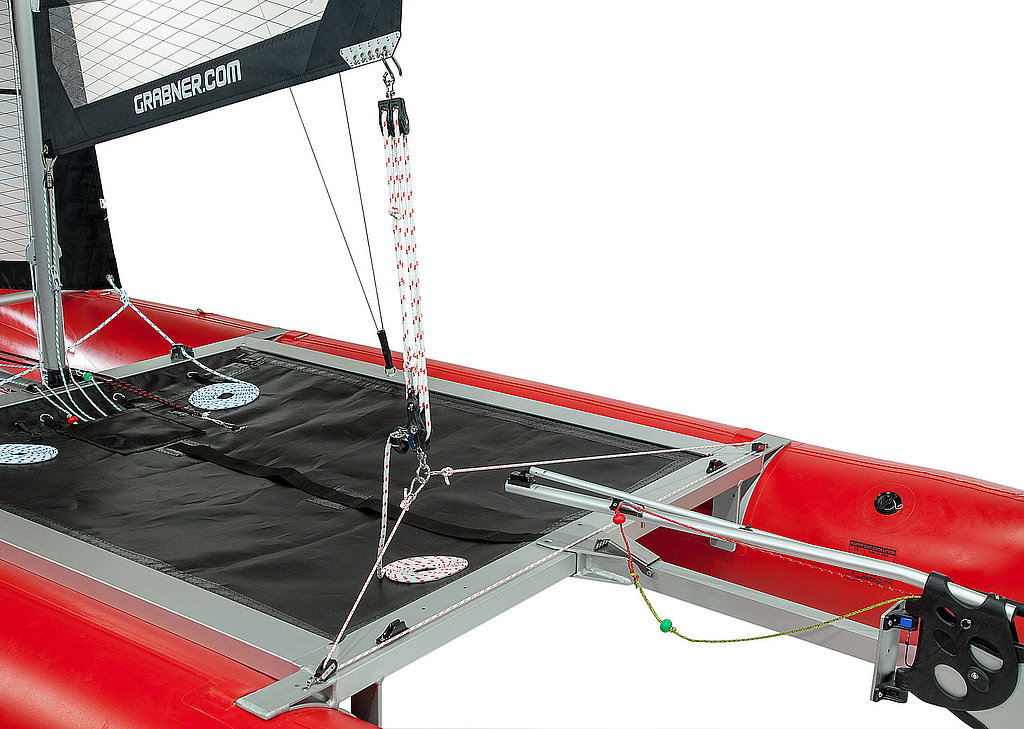 Pictures & Videos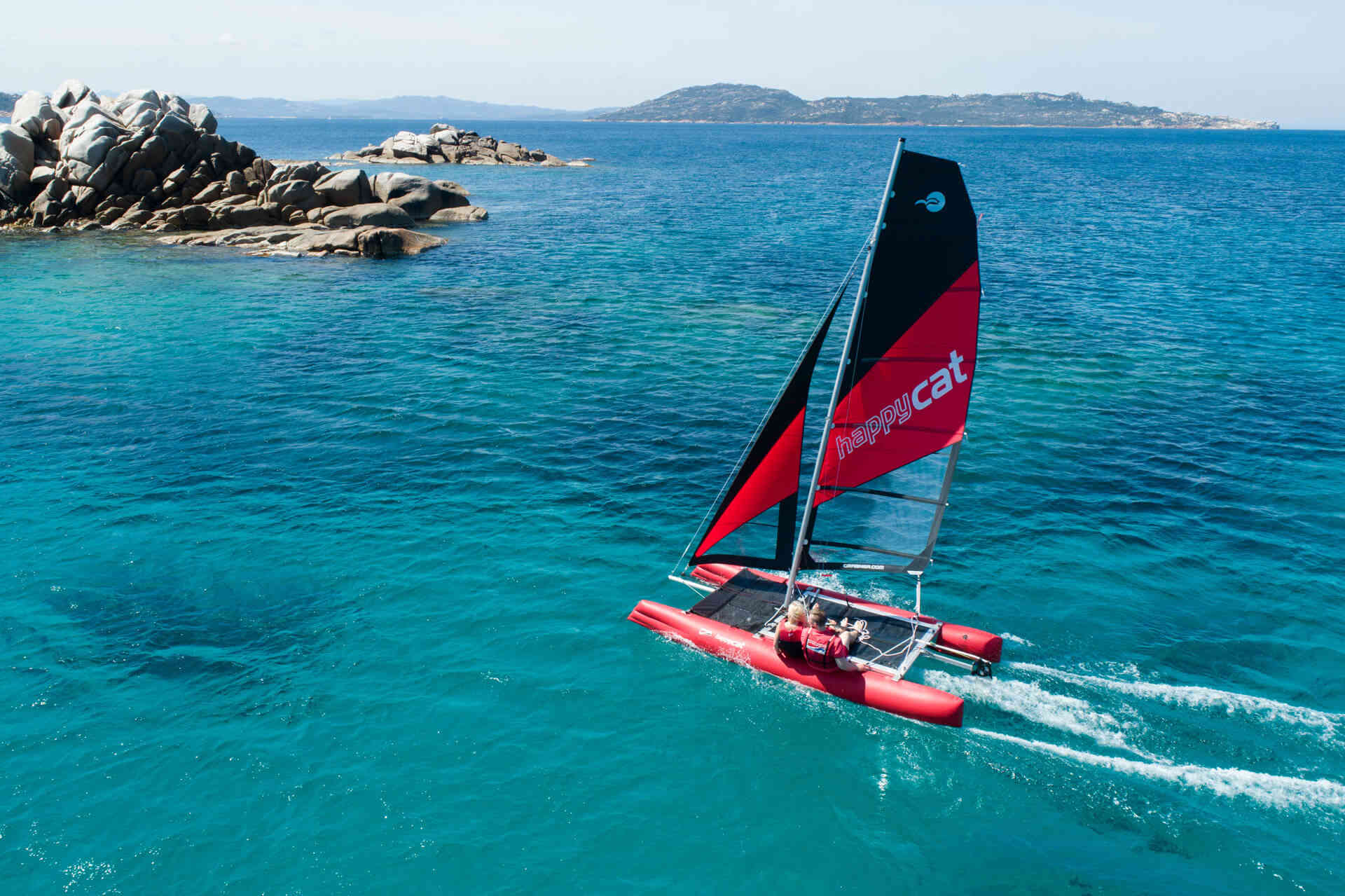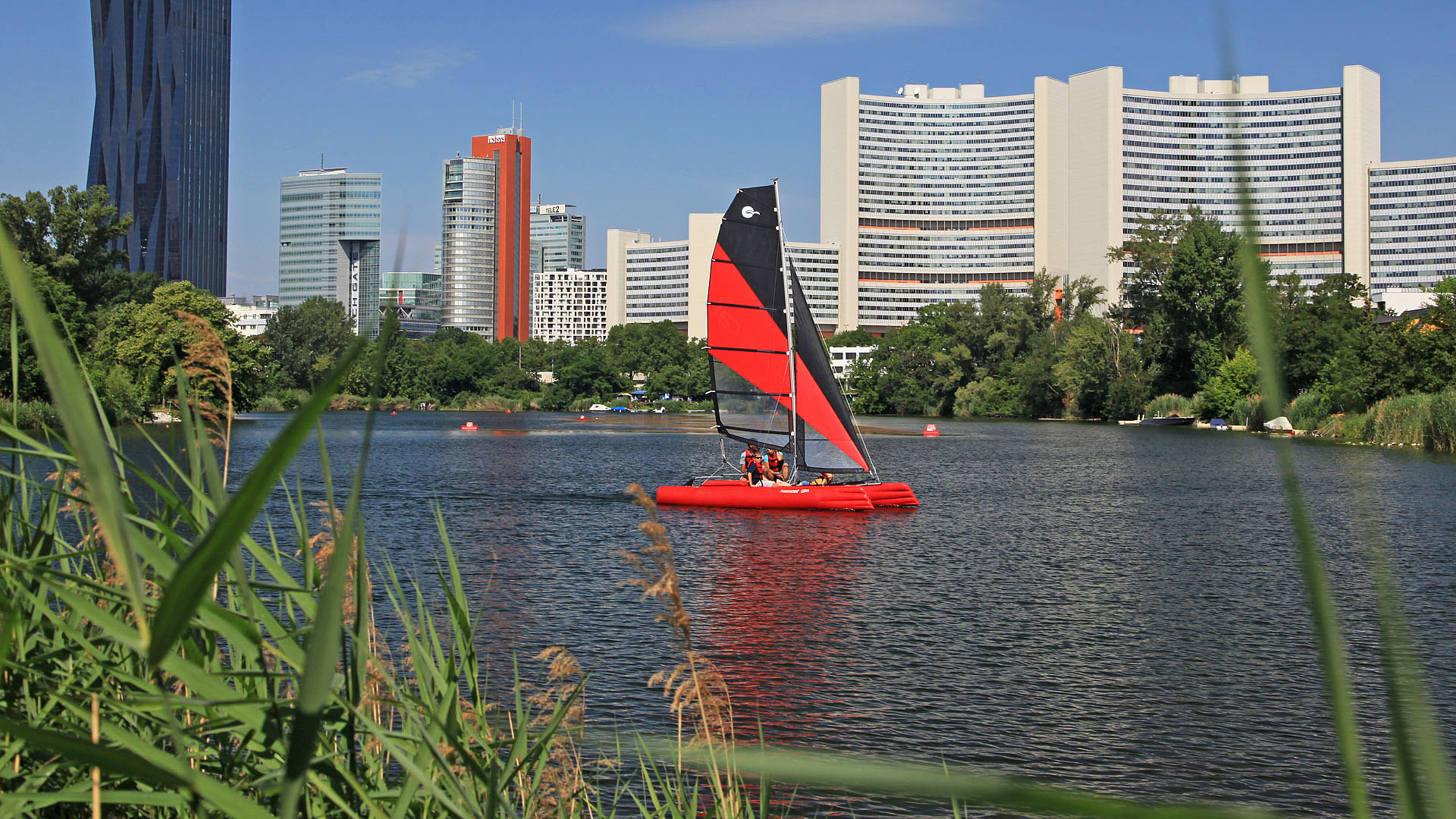 Technical data
| | | |
| --- | --- | --- |
| Overall Length x Width | 465 x 220 cm | 15' 3" x 7' 3" |
| Length x Width Trampoline | 180 x 150 cm | 6' 2" x 4' 11" |
| Hull Length x DM | 450 x 47 cm | 14' 9" x 18" |
| Mast Height | 610 cm | 20' 0" |
| Weight | 79 kg | 174 lbs |
| 2 Packing bags | 185 x 30 x 30 cm | 6' 0" x 12" x 12" |
| 1 Packing bag | 80 x 45 x 28 cm | 31" x 17" x 11" |
| Longest Item | 180 cm (front frame + rear frame) | 5' 10" (front frame + rear frame) |
| Persons max. | 4 | 4 |
| Payload | 500 kg | 1102 lbs |
| Air Chambers | 2 | 2 |
| Assembly Time | 30 min | 30 min |
| Operating Pressure | 0.3 bar | 4.3 psi |
| Material | 1100 dtex EPDM-Kautschuk | 1100 dtex EPDM-Kautschuk |
| Headsail / mainsail | 3.5 m² / 8 m² | 32 sq.ft. /86 sq.ft. |
| Sail Area | 11.5 m² | 118 sq.ft. |
| Wind Force | 5 Beaufort | 5 Beaufort |
| Engine Power | 4.4 kw / 6 hp | 4.4 kw / 6 hp |
| Motor Weight | 30 kg | 67 lbs |
| Shaft Length Motor | long shaft – L | long shaft – L |
| ISO Standard | ISO EN 6185 Kat. VI | ISO EN 6185 Kat. VI |
| Design Category | C | C |
| Colour | red | red |
| Inland waters | | |
| Coastal waters | | |
| Payload | | |
| Performance | | |
| Single-handed sailing | | |
| Two people sailing, or more | | |
Standard equipment
2 wavepiercing hulls
2 safety valves
1 profile frame 4-parts
1 trampoline mesh with snap-buckles
1 double toe-strap
4 paddle retainer
1 net-pouch for lines
1 bowsprit
2 tensioning stays for bowsprit
1 crossbar bow
1 centreboard
1 rudder
1 mast aluminium 4-parts
1 mast foot hinge
2 double shrouds
2 neoprene shrouds protection
1 jib sail 3.5 sqm
1 mainsail 8.0 sqm
1 jib furler endless
1 jib halyard pulley
1 forestay
1 traveller
1 main sheet 4:1
2 shroud wind indicators
2 drilling for motor mounting
4 drilling for slipping-wheels
1 packing bag set 4-parts
1 specification label
1 repair kit
1 valve key
1 pressure relief adapter
1 owners manual with declaration of conformity
Single-handed sailing suitable
Your new boat in just a few steps
Included in the price:
1 Jib Sail
1 Main Sail
1 Pack-Sack
2 Pack-bags Universal Sail with Wheels
1 Sail-bag
1 repair kit
HAPPY CAT EVOLUTION
Accessories

Accessory Set HAPPY CAT EVOLUTION/HURRICANE
(Set contents)
365,00 EUR

ELECTRIC AIR PUMP WITH BATTERY
290,00 EUR

FOREDECK HAPPY CAT EVOLUTION + HURRICANE
195,00 EUR

FOREDECK NET HAPPY CAT
30,00 EUR

MASTHEAD FLOAT
280,00 EUR

STRONG WIND - SAIL SET
1.200,00 EUR

LEE-SHROUD TENSIONING SET
50,00 EUR

TRAPEZE SYSTEM
200,00 EUR

Slipping wheels HAPPY CAT
490,00 EUR

SUN AWNING HAPPY CAT EVOLUTION, HURRICANE
250,00 EUR

Tarpaulin HAPPY CAT EVOLUTION
350,00 EUR
Motor-bracket HAPPY CAT EVOLUTION / HURRICANE
240,00 EUR

Motor-bracket HAPPY CAT EVOLUTION/HURRICANE long
330,00 EUR
Torqeedo Travel 1103 CL (long shaft)
2.389,00 EUR
Grabner Support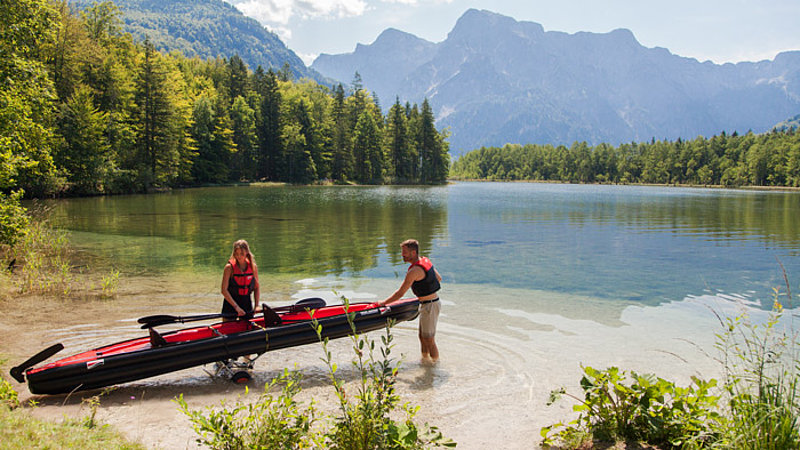 You have questions?
We are happy to help you!
Do you have questions about products, orders or other concerns? Please do not hesitate to contact us. Your Grabner team will be happy to help you!